Paintball Lanyards: Capture The Flag Pain Ball Team Lanyards, Paintball Guns Lanyards.
Good For Paintball Games, Paintball Sports, Paintball Tournaments or Paintball Teams.
Paintball lanyards are special designed for paintball team players. The paintball lanyards can uses to carry individual team's name badges or paintball guns. We have a variety of pre-printed paint ball lanyards with different style of color patterns. They come with Ez-Adjustable lanyard clasps can be adjusted to each team member's height easily. Since1980s, the first introduction of paintball games, paintball has become a worldwide popular sports. More paintball players have formed teams, set up leagues and organized game tournaments. Paintball lanyards are pre-printed lanyards with attractive patterns. Standard paintball lanyards come with heavy duty nickel color swivel hooks, badge clips, key rings, or cell phone connectors. Paintball lanyards also come with a variety of optional hardware attachments, such as safety break-away buckles, heavy duty nickel color, gold, antique brass or black nickel color snap hooks. Please check our online catalogs for more cool paintball lanyards.
Lanyards, Holders, Reels, Clips, Making, Straps, Wrist, Leashes

Without Custom Imprint, With Custom Imprint, Straps, Hardware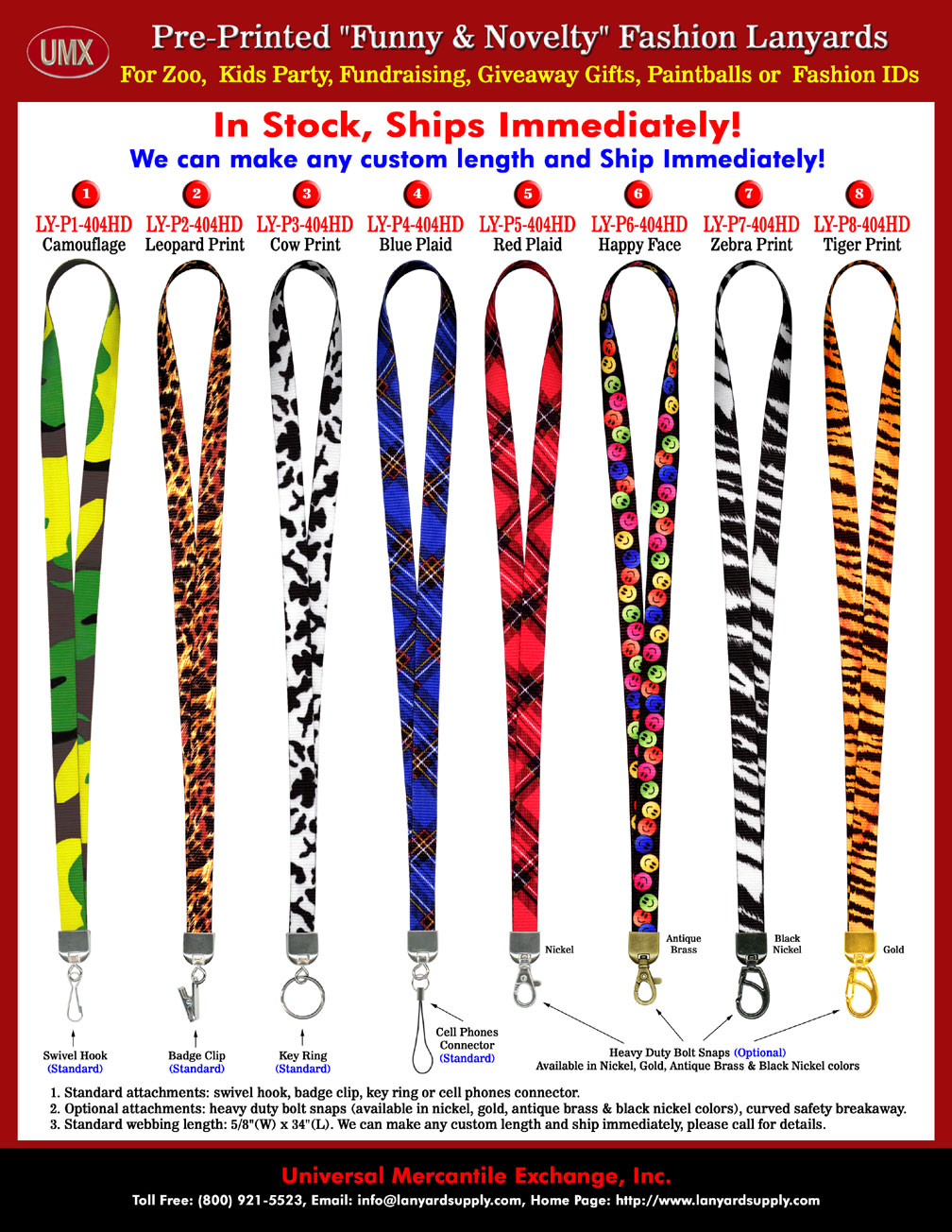 Without Custom Imprint, With Custom Imprint, Straps, Hardware

Free Artworks, Full Custom Imprinting Colors Available
Lanyards, Holders, Reels, Clips, Making, Straps, Wrist, Leashes
Specifications: Paintball Lanyards: Paintball Guns Lanyards, Capture The Flag Pain Ball Team Lanyards - Paintball Gun Shop or Outdoor Sports Supplies.
1. Standard Width of Paintball Lanyards:
5/8".
2. Standard Length of Webbing/Straps:
34". Optional Length: Any custom length available, like 12", 14",18",20",22",24",32",36",42",48" and more.
3. Webbing/Straps Material:
High quality and heavy duty polyester webbing, non-wrinkle lanyard straps.
4. Standard Colors of Webbing/Straps:
Camouflage or Any Pre-Printed Patterns. Optional: Any Pantone PMS colors with a minimum order of 5000 pieces or more.
5. Standard Hardware Attachments:
Metal: Ez-Adjustable nickel color: swivel hooks, badge clips, key rings or cell phone connector.
6. Optional Hardware Attachments:

Heavy duty snap hooks with nickel, black nickel, antique brass or gold colors available.
Safety breakaway buckles.
Double-Ends and Double Hardware Attachments.

7. Way of Pre-Printed Patterns:
Dye sublimated on both sides with variety of color patterns.
8. Custom Imprinting:
Use the pre-printed color pattern lanyards as back ground.
Any customized or personalized logo printed on pre-printed color pattern lanyards.
9. Applications:
Any paintball game neck lanyards or paint ball wrist lanyards. For paintball games, paintball sports, paintball tournaments or paintball teams' ID name badges, paintball gun leashes, paintball carrying bags or shoulder straps.
10. Minimum Order:
2 Pieces/Per Color, Per Style. Small Minimum Order: Good for Personal Use or for Paintball teams' ID name badge holders.
You are viewing > Lanyards > Ez-Adjustable Neck Wear Models > Paintball Lanyard: Paintball Guns Lanyard, Capture The Flag Pain Ball Team Lanyard - Paintball Gun Shop or Outdoor Sport Supply.
---
---

Contact: info@lanyardfactory.com