Call Lanyards: Duck, Goose, Turkey, Dog, Animal, Whistle, Game Calls, Hunting, Fishing and Sportsman Outdoor Lanyards Supplies.
Call lanyards are special designed for carrying duck, goose, turkey, dog and a variety of animal calls devices. They are mainly made for hunting, fishing, games and outdoor sports. We have a variety of pre-printed duck call lanyards with different style of color patterns. They come with lanyard clasps can be adjusted to different height easily. Standard duck call or goose call lanyards come with heavy duty nickel color swivel hooks, badge clips, key rings, or cell phone connectors. Duck call lanyards also come with a variety of optional hardware attachments, such as safety break-away buckles, heavy duty nickel color, gold, antique brass or black nickel color snap hooks. Please check our online catalogs for more cool duck call lanyards.
Lanyards, Holders, Reels, Clips, Making, Straps, Wrist, Leashes

Without Custom Imprint, With Custom Imprint, Straps, Hardware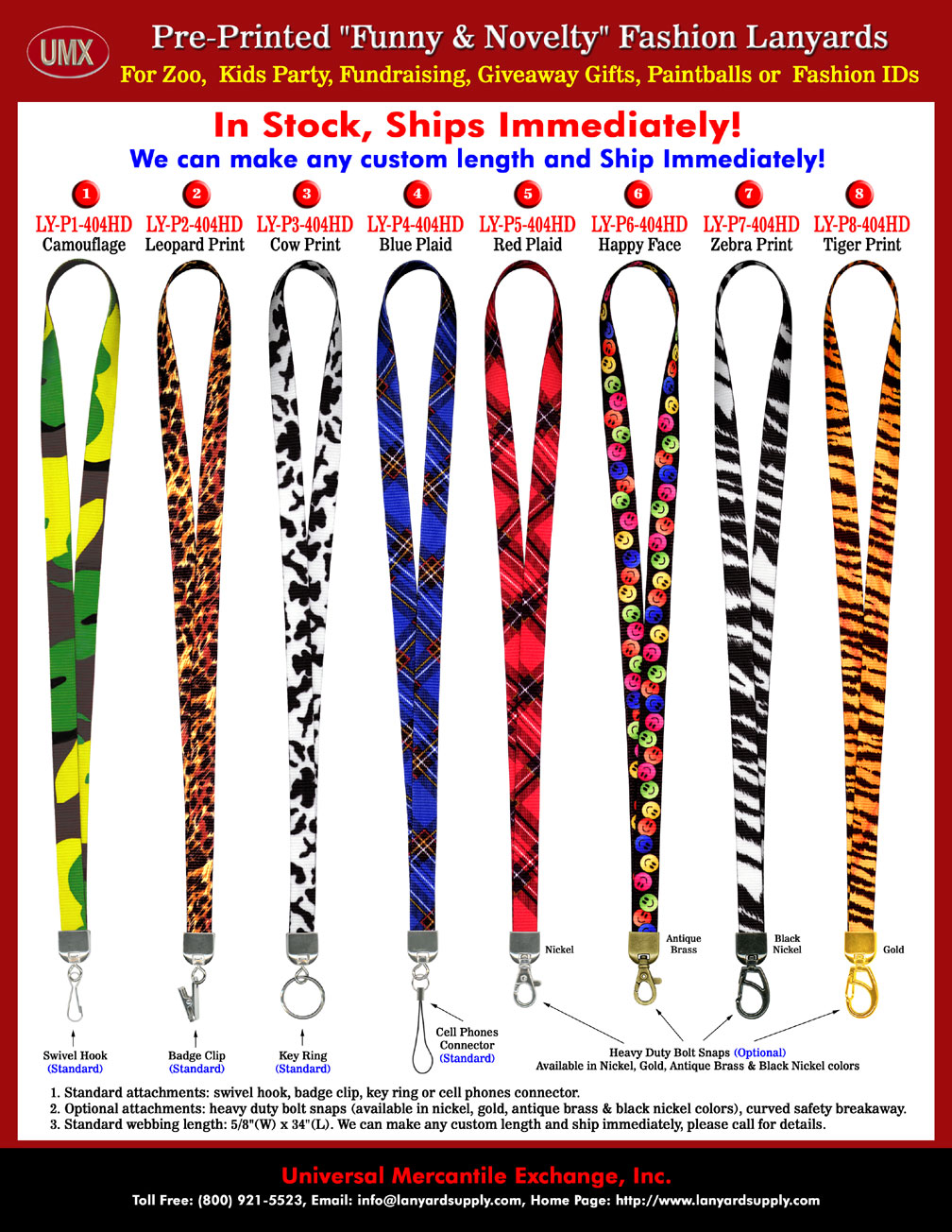 Without Custom Imprint, With Custom Imprint, Straps, Hardware

Free Artworks, Full Custom Imprinting Colors Available
Lanyards, Holders, Reels, Clips, Making, Straps, Wrist, Leashes
There are a variety of duck calls available on the market for duck hunters, such as coca bola double reed duck calls, box calls, wood calls, lady duck calls, MVP duck calls acrylic duck calls, collectable duck calls with art crafted and more. In addition to the traditional handcrafted or handmade duck calls, there are a lot of digital calling systems available on the market now. Those portable digital calling systems are lightweight, dependable and come with long distance remote control. Animal calls/digital calling systems come with large capacity of storage, programmable functions and DVD of how to call ducks. You can customize your system by selecting from big library of high quality animal sounds, such as duck, deer, coyote, elk, goose, tiger, birds, turkey and more. They also come with backlit LCD display and the keypad with glow-in-the-dark buttons makes your hunting at night much more easier. The duck call lanyards are great for carry those hunting whistles and equipments.
Specifications: Call Lanyards, Duck Call Lanyards: Goose Calls, Dog Calls, Turkey Calls, Game Calls, Dog Calls, Whistle or Animal Calls, Hunting, Fishing and Sportsman Lanyards - Duck Call Outdoor Sports or Gift Shop Supplies.
1. Standard Width of Duck Call Lanyards:
5/8".
2. Standard Length of Webbing/Straps:
34". Optional Length: Any custom length available, like 12", 14",18",20",22",24",32",36",42",48" and more.
3. Webbing/Straps Material:
High quality and heavy duty polyester webbing, non-wrinkle lanyard straps.
4. Standard Colors of Webbing/Straps:
Camouflage, Animal Prints or Any Pre-Printed Patterns. Optional: Any Pantone PMS colors with a minimum order of 5000 pieces or more.
5. Standard Hardware Attachments:
Metal: Ez-Adjustable nickel color: swivel hooks, badge clips, key rings or cell phone connector.
6. Optional Hardware Attachments:

Heavy duty snap hooks with nickel, black nickel, antique brass or gold colors available.
Safety breakaway buckles.
Double-Ends and Double Hardware Attachments.

7. Way of Pre-Printed Patterns:
Dye sublimated on both sides with variety of color patterns.
8. Custom Imprinting:
Use the pre-printed color pattern lanyards as back ground.
Any customized or personalized logo printed on pre-printed color pattern lanyards.
9. Applications:
Any duck call game neck lanyards or duck call wrist lanyards. For duck call games, duck call sports, duck call tournaments or duck call teams' ID name badges, duck call gun leashes, duck call carrying bags or shoulder straps.
10. Minimum Order:
2 Pieces/Per Color, Per Style. Small Minimum Order: Good for Personal Use or for Duck Call teams' ID name badge holders.
You are viewing > Lanyards > Ez-Adjustable Neck Wear Models > Duck Call Lanyard: Goose Call, Animal Call, Hunting Whistle Call, Fishing and Sportsman Outdoor Lanyard Supplies.
---
---

Contact: info@lanyardfactory.com