UMX Great Seller: Soft-Touch, Double-Layer and Comfort To Wear Custom Printed Lanyards
Great For Custom Printed Lanyards with Small and Complicated Logos
The soft-touch and double-layer lanyards are made of heavy duty polyester material. The way of woven make the lanyards come with soft-touch feeling. They are so smoothly knitted that make imprinted logo very sharp. Great for small characters or complicated graphics imprinting.
Lanyards, Badge Holders, Badge Reels, Badge Clips

With Custom Imprinted, Custom-Order-No-Imprint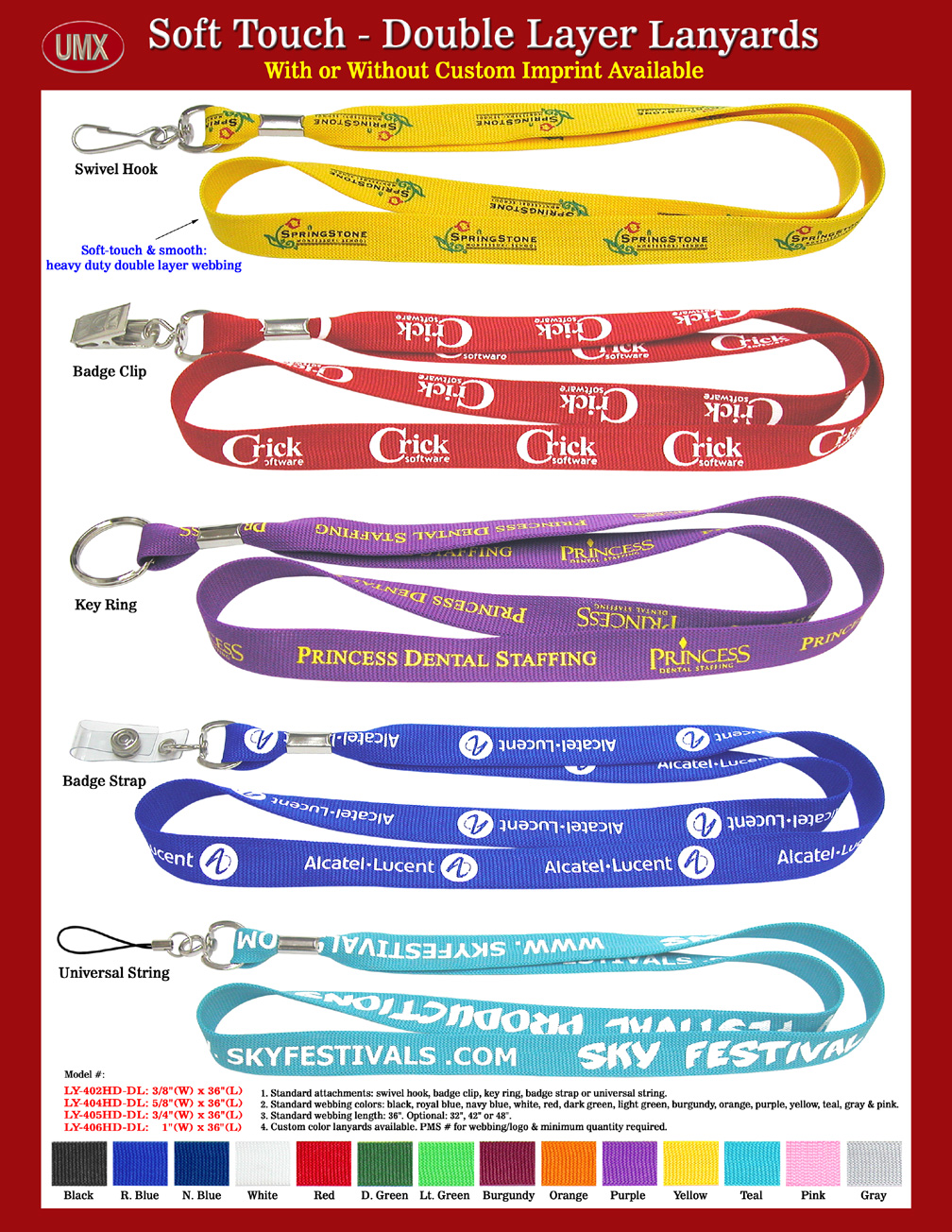 With Custom Imprinted, Custom-Order-No-Imprint

Free Artworks, Full Custom Imprinting Colors Available
Lanyards, Holders, Reels, Clips, Making
Specifications: Soft-Touch and Double-Layer Custom Lanyards
1. Standard Width of Lanyards:
3/8", 5/8", 3/4" and 1".
2. Standard Length of Webbing/Straps:
36". Optional Length: Any custom length available, like 12", 14",18",20",22",24",32",36",42",48" and more.
3. Webbing/Straps Material:
High quality and heavy duty polyester webbing, non-wrinkle lanyard straps.
4. Standard Colors of Webbing/Straps:
Black, royal blue, navy blue, white, red, yellow, orange, grey, burgundy, dark green, light green, purple and teal colors. Optional: Any Pantone PMS colors with a minimum order of 5000 pieces or more.
5. Standard Hardware Attachments:
Metal: nickel color: swivel hooks, badge clips or key rings
6. Optional Hardware Attachments:

Heavy duty snap hooks.
Safety breakaway buckles.
Detachable buckles.
Cell phone connectors
Rubber rings.
Double-Ends and Double Hardware Attachments.

7. Custom Imprinting:
Any colors for customized or personalized logo available.
8. Applications:

Can be use as neck lanyards or wrist lanyards for ID name badges, dog leashes, tools holders and as shoulder straps for handbags, bags, or purses.
Can be used to carry camera, cellular phone, USB flash cards, USB flash drives, CD players, iPod players or MP3 players, flash lights, keys, small tools, key holders, small meters, electronic devices and more.

9. Minimum Order:
100 Pieces/Per Color, Per Style.
You are viewing Lanyards > Soft-Touch and Comfort To Wear Custom Lanyards.
---
---

Contact: info@lanyardfactory.com